Red Cross Swim Kids Lessons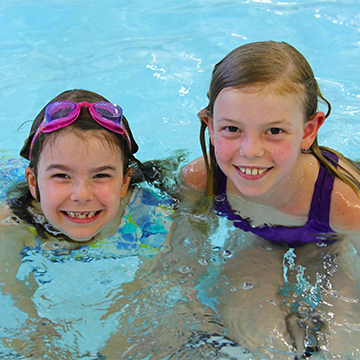 Red Cross Swim Kids is a 10-level, stand-alone program for 5-12-year-old children. Children learn to swim, be fit, and stay safe in a fun environment that promotes achieving a personal best and celebrates personal success. The program teaches swimming and survival strokes, as well as increasing the distance and speed that each swimmer can achieve, while focusing on making safe decisions in, on and around the water. Swimmers must attend a minimum of 8 classes to be eligible to progress to the next level, as well as meeting the skill requirements.
Placement in Red Cross Swim programs depends on many variables including age, skill proficiency, previous experience, and readiness. The following chart is a guide only.
| LEVEL: | AGE: | RESULTS: |
| --- | --- | --- |
| Red Cross Swim Kids 1 | At least 5 years of age, no previous swimming experience required | Swimmers develop front and back float, front and back glide, flutter kick (assisted), shallow water entries and exits, and swim 5 metres. |
| Red Cross Swim Kids 2 | At least 5 years of age, successful completion of the skills in Red Cross Swim Kids 1 | Swimmers learn front and back glide with flutter kick, develop front swim, complete deep-water activities (assisted) and swim 10 metres continuously. |
| Red Cross Swim Kids 3 | At least 5 years of age, successful completion of the skills in Red Cross Swim Kids 2 | Swimmers increase their distance on front and back glide with flutter kick, perform flutter kick unassisted, wear a PFD in deep water, float in deep water, and swim 15 metres continuously. |
| Red Cross Swim Kids 4 | At least 5 years of age, successful completion of the skills in Red Cross Swim Kids 3 | Swimmers learn back swim with shoulder roll and front crawl (10m), work on flutter kick on back, perform kneeling dive, introduction to sculling and swim 25 metres continuously. |
| Red Cross Swim Kids 5 | At least 5 years of age, successful completion of the skills in Red Cross Swim Kids 4 | Swimmers develop front crawl (15m), learn back crawl (15m) and whip kick on back, learn stride dive and treading water, perform head-first sculling on back, and swim 50 metres continuously. |
| Red Cross Swim Kids 6 | At least 5 years of age, successful completion of the skills in Red Cross Swim Kids 5 | Swimmers increase their distance on front and back crawl (25m), learn elementary back stroke (15m), learn dolphin kick, tread water in deep water, perform front dive, and swim 75 metres continuously. |
| Red Cross Swim Kids 7 | At least 5 years of age, successful completion of the skills in Red Cross Swim Kids 6 | Swimmers increase their distance on front and back crawl (50m) and elementary back stroke (25m), learn front scull, perform whip kick on front and dolphin kick, learn stride entry and swim 150 metres continuously. |
| Red Cross Swim Kids 8 | At least 5 years of age, successful completion of the skills in Red Cross Swim Kids 7 | Can float/move in deep water without assistance, breathe rhythmically 10 times, flutter, do surface support for 10 seconds and swim 10m. Preschoolers will increase their distance and improve skills! |
| Red Cross Swim Kids 9 | At least 5 years of age, successful completion of the skills in Red Cross Swim Kids 8 | Swimmers increase their distance on front and back crawl (100m), elementary back stroke (50m) and breast stroke (25m), learn sidestroke kick, perform head-first surface dive, and swim 400 metres continuously. |
| Red Cross Swim Kids 10 | At least 5 years of age, successful completion of the skills in Red Cross Swim Kids 9 | Swimmers increase their distance on front and back crawl (100m), elementary back stroke (50m) and breast stroke (50m), learn sidestroke (25m), perform dolphin kick (vertical), learn feet- and head-first surface dives with underwater swim, and swim 500 metres continuously. |